Together with our partner

SMART ECO SHIPPING AB

, we offer advanced training in Energy Management
SMART ECO SHIPPING AB offers education based on their ten years of experience in energy management where eco driving is an essential part. SES assist knowledge in all aspects of the energy management process to ensure a long-term and sustainable solution. A successful energy management strategy involves seven key steps where SES offers their experience from start making the project successful.
Company commitment – Senior management understanding of business benefits of an energy management project
Clear understanding of the current energy use
Plan and organize – How can energy be saved – Create energy-saving targets
Draw an action plan – Practial steps – Give individuals responsibility
Involve and motivate your staff – Carrying out training and highlight the strategy's benefits to boost staff participation
Control, monitor and report – Regulary monitor and analyse performance
Evaluate, iterate and improve
Together with Smart Eco Shipping AB we support you during the whole process of implementing a fuel- and energy saving project, from technical solutions, how to look at it from the management side, and how to get the crews involved and trained in an efficient way. 
For further information, please contact Kim Sjögren at Smart Eco Shipping AB or us at Blueflow Energy Management.

Energy management is the term given to activities associated with monitoring, analysing, controlling and saving energy
Reducing our CO2 emissions is one of today's most pressing issues. Every organization can make some contribution to reducing its CO2 emissions. The fact that this can reduce costs also makes it attractive to do. An energy management system helps an organization work systematically on reducing its energy consumption.
Energy management takes careful planning, implementation and continuous evaluation to determine whether energy saving actions carried out through:
Company commitment
Understanding energy use
Planning and organisation
Implementation
Verification, monitoring and reporting
Iteration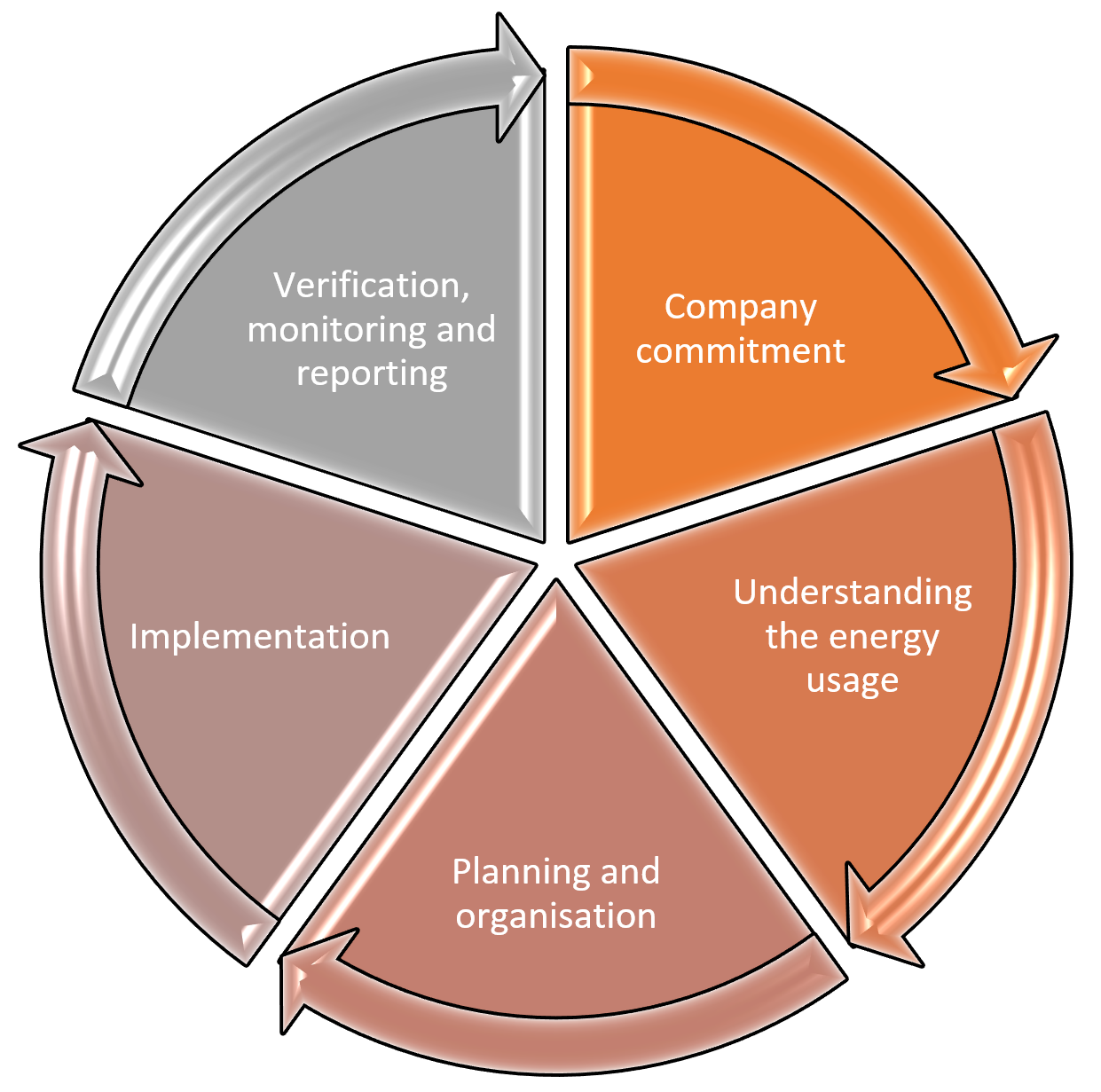 Example of an energy management standard: ISO 50001 – A standard that aims to help organizations continually reduce their energy use
ISO 50001 is the international standard for Energy Management Systems, created by the International Organization for Standardization (ISO). The standard specifies the requirements for establishing, implementing, maintaining and improving an energy management system, whose purpose is to enable an organization to follow a systematic approach in achieving continual improvement of energy performance, including energy efficiency, energy security, energy use and consumption.
The standard aims to help organizations continually reduce their energy use, and therefore their energy costs and their greenhouse gas emissions.
ISO 50001 was originally released by ISO in June 2011 and is suitable for any organization, whatever its size, sector or geographical location.