Blueflow Emission Monitor launched!
Blueflow kickstarts 2021 with the release of a new function, Blueflow Emission Monitor. The new emission module is a complete tool for compliance monitoring and emission reporting
All global, as well as local ECA/SECA areas are supported. Your vessel´s momentary emissions are compared with the applicable ECA limits, and instant alarms are sent if the limits are exceeded. Onboard the ship, the crew are alerted well in advance of an ECA area, giving them time to prepare and take appropriate actions.
The module is an integrated part of the standard Blueflow online 3.0 system, and combined together, they will put you in total control of your fleet´s fuel- and energy consumption, as well as of your emission situation.
Please do not hesitate to contact us or any of our partners for more information.
We are happy to present a new product in the Blueflow portfolio –
Blueflow Wallboard
Blueflow Wallboard gives the operator an overview of the fleet´s key performance indexes, and enables a quick analysis in one glance.
The wallboard is presented on a standard large screen TV and will fit perfectly in your company reception or in the office conference room.
Blueflow Wallboard gives a quick status overview of the fleet such as energy consumption, costs,  geographical locations on a map, speed, emission levels and more.
It is very well suited for monitoring energy and emission targets because the screen is intended to be placed in environments such as coffee rooms, hallways, receptions or other well-visited areas.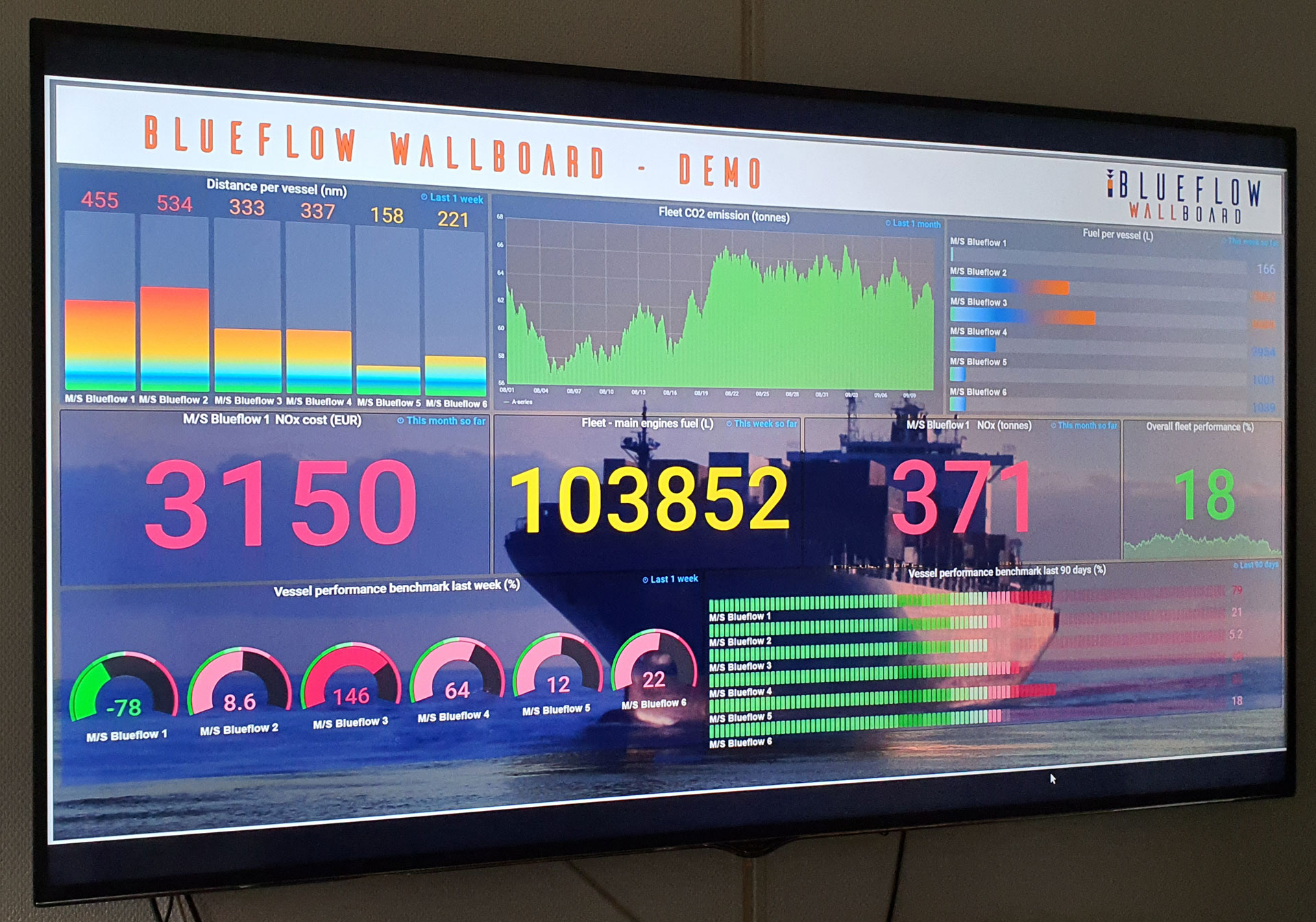 You decide what the wallboard should contain according to your needs and wishes.
(click on the picture for a larger size)
We are right now in the middle of a project where we are rolling out Blueflow Energy Management on Trafikverket/Färjerederiet – STA Road Ferries across the country

In connection with each installation, all crews receive a solid training in energy management and the knowledge of using the Blueflow system in their daily work on lowering fuel and energy consumption.
The training carried out by Smart Eco Shipping is a vital part of Färjerederiet's determination for a successful energy management project and thus also in their work for a sustainable environment throughout their fleet.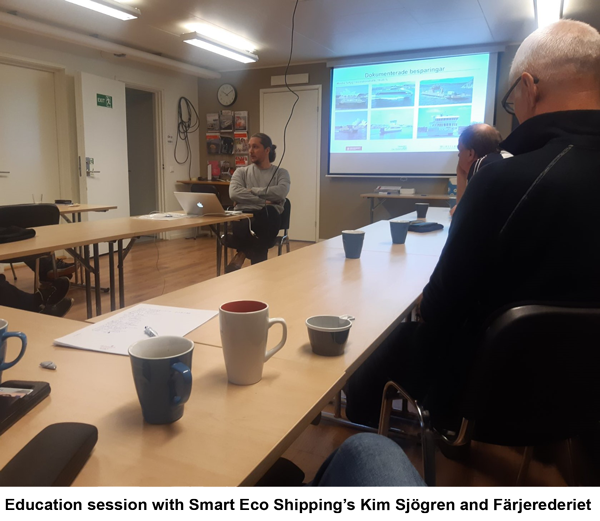 Energy management is the term given to activities associated with monitoring, analysing, controlling and saving energy
Reducing our CO2 emissions is one of today's most pressing issues. Every organization can make some contribution to reducing its CO2 emissions. The fact that this can reduce costs also makes it attractive to do. An energy management system helps an organization work systematically on reducing its energy consumption.
Energy management takes careful planning, implementation and continuous evaluation to determine whether energy saving actions carried out through:
Company commitment
Understanding energy use
Planning and organisation
Implementation
Verification, monitoring and reporting
Iteration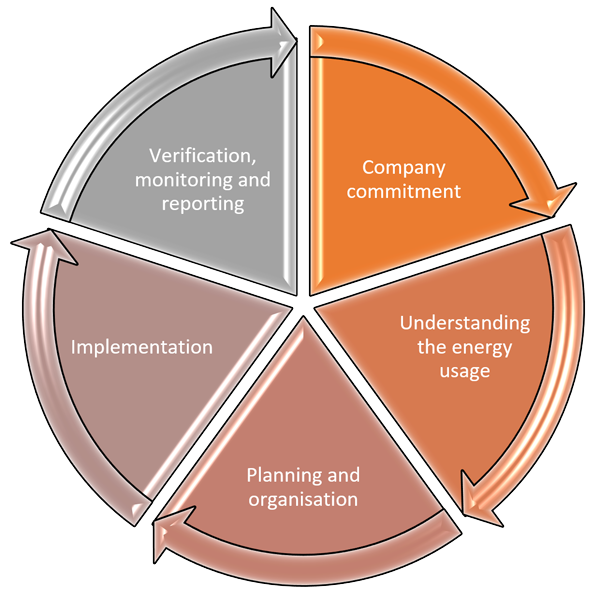 BLUEFLOW ANNOUNCES ORDER FOR ENERGY MANAGEMENT SYSTEM TO TRAFIKVERKET/FÄRJEREDERIET – STA ROAD FERRIES
A total of 26 installations will be carried out during a period of 18 months. This order confirms Blueflow´s position as a major supplier of Energy Management Systems for the marine market. This project runs in collaboration with our partner METS technology in Uddevalla.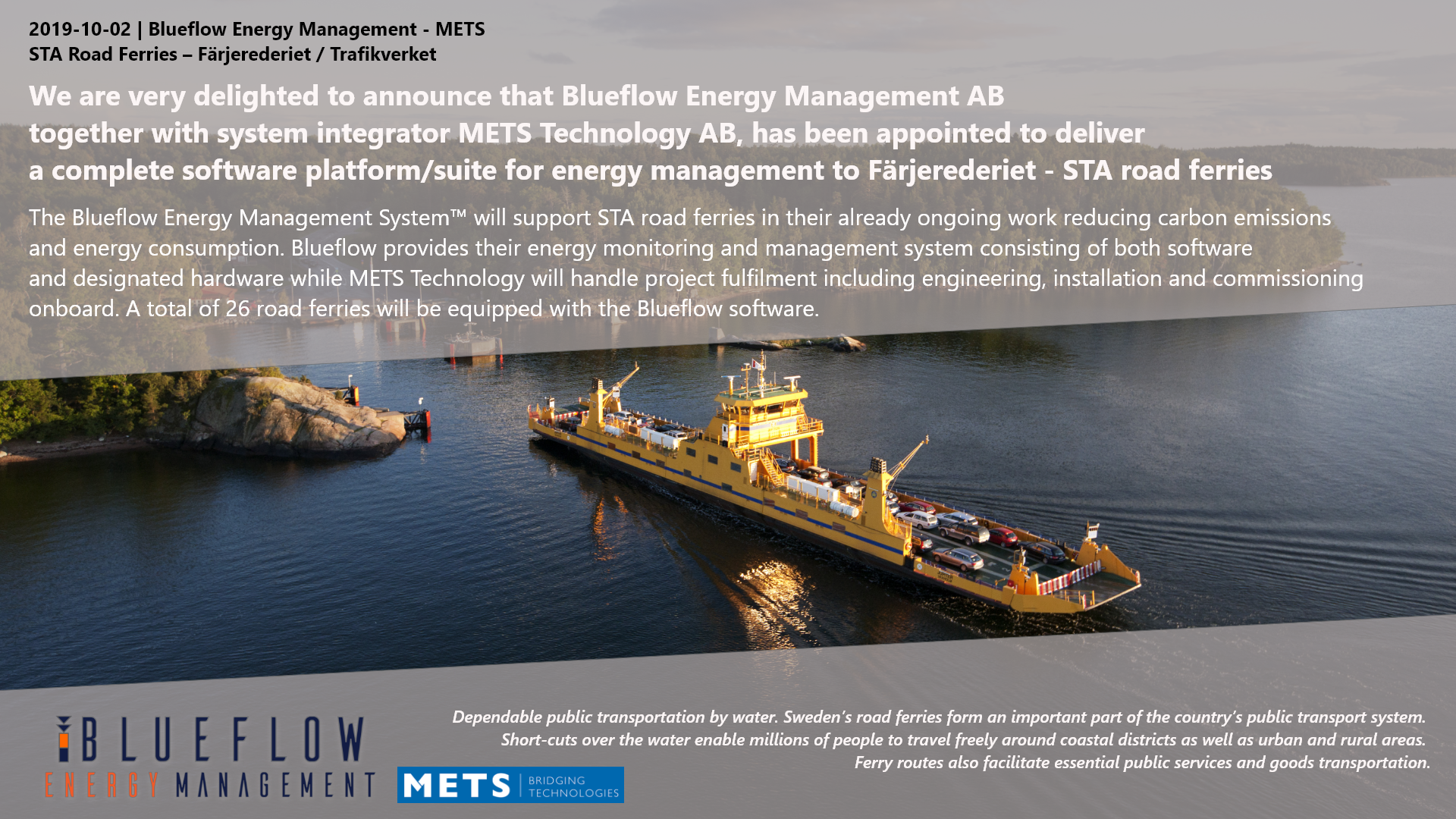 Announcing our partnership with DEIF A/S
Blueflow Energy Management AB are delighted to announce their collaboration with the Danish company DEIF A/S.
Being one of the world's leading suppliers of power management solutions, bridge and switchboard instrumentation, DEIF is confident that Blueflow Energy Management™ will save their customers a lot of money on fuel and energy consumption both on newbuilds and retrofit projects and regardless of vessel types.
"The strategic cooperation with DEIF gives us access to their vast experience, know-how and expertise in the shipping industry. The partnership opens up great opportunities to expand our presence in the global market. We look forward to a long and successful cooperation."
Peter Knudsen, Blueflow AB – Managing Director
About DEIF A/S:
Green, safe & reliable power
Established in Denmark in 1933, today the DEIF Group is a global market leader in green, safe and reliable control solutions for decentralised power production on land or at sea. In simple terms, we make sure power is always available.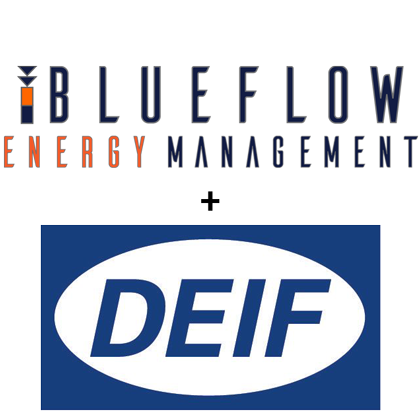 ECO-driving taken to the next level!
With our newly launched function "Blueflow ECO-trip" the driver of the ship gets instant feedback of the ship´s fuel- and energy consumption. The graphical interface compares current trip with last trip on the same route, and different driving techniques are directly comparable. All historical routes are compared in a list, and average values are calculated and presented.
Saving fuel and energy is not magic. It is about hard work, training and motivation combined with a support system that actually enables follow-up of implemented measures. Doing this correctly, 10-20% of saved fuel is fully realistic targets.
If interested, please contact us and we will help you save fuel as well.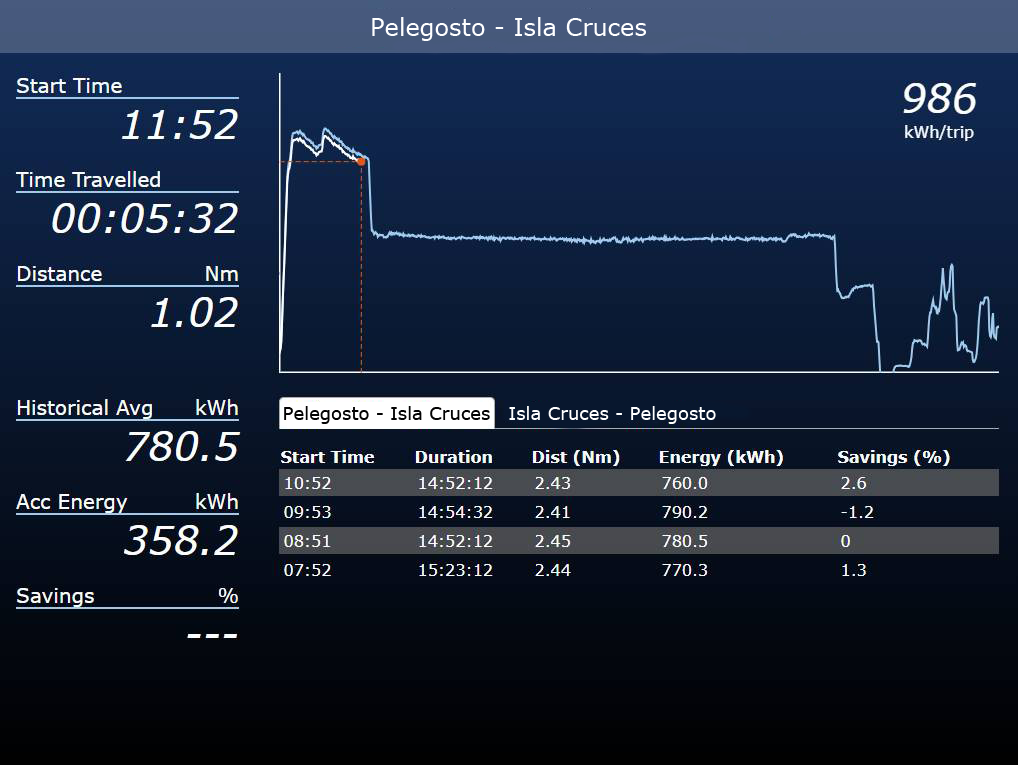 The MRV EU-wide legal framework is here! Do you have the right tools? We have an MRV solution ready for you!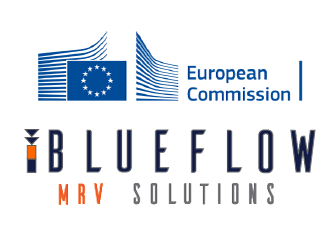 The movie in the background is from the bridge of the vessel M/S Viking Grace. Operated and owned by our customer Viking Line. Viking Line uses Blueflow Energy Management System in their MRV work and also in their daily efforts in reducing energy consumption and carbon prints.
Get a quick Blueflow Energy Management overview in this 3 minutes video
Blueflow Energy Management System™
The Blueflow Energy Management System helps you manage your vessels' energy sources. It presents consumption and energy efficiency data on intuitive graphical user interfaces onboard your vessels. It collects and sends data to our cloud platform for secure storage and easy data analysis.
The system consists essentially of two parts:
Blueflow Online™ and Blueflow Onboard™.
Blueflow Online™ is our secure cloud platform that stores vessel data with a resolution of one second. Ultra-fast data processing enables almost unlimited possibilities to find complex relationships of the data on a vessel. These findings can be used to reduce energy consumption, make diagnostics, take comprehensive reports and increased knowledge of a vessel's performance.
Blueflow Onboard™ integrates with various other onboard systems and flowmeters to monitor fuel and energy consumption and other parameters in real-time. Parameter data are sent to Blueflow Online™ for reporting, analysis and verification. Various displays can be installed for eco-driving and monitoring of energy consumers.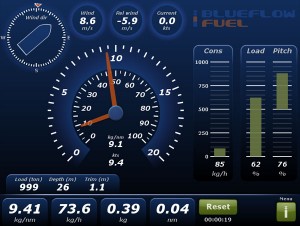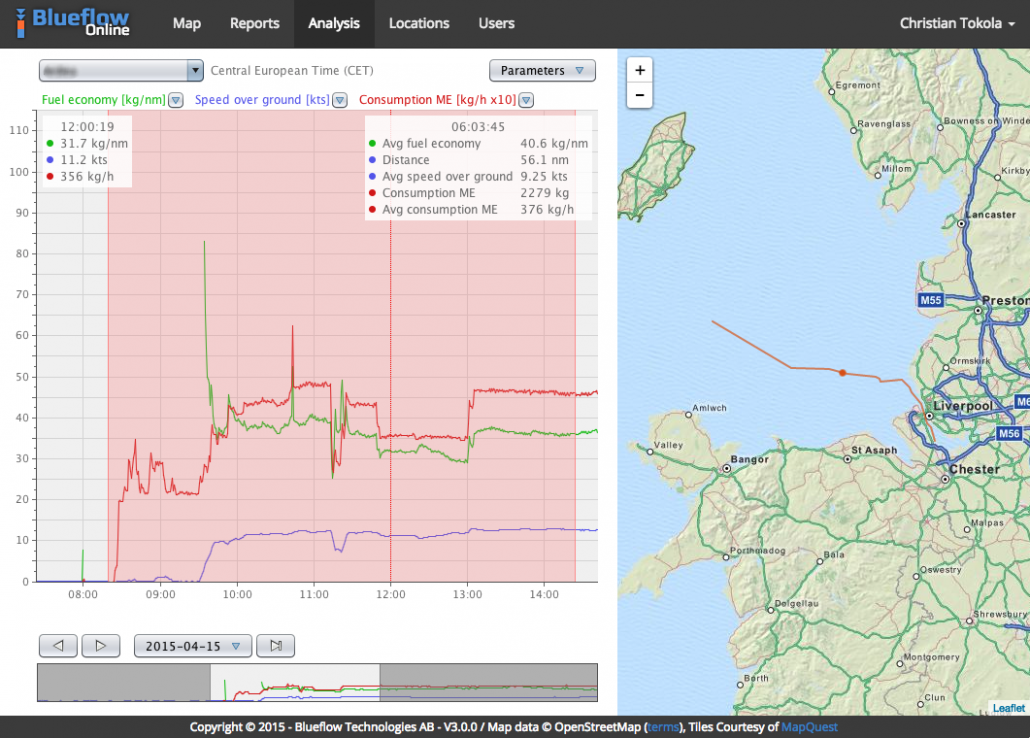 Blueflow MRV Solutions  – Ready for you – Easy to use
Shipping companies must now begin monitoring and reporting vessel greenhouse gas emissions for ships of more than 5,000 GT loading or unloading at European ports. Owners will need a monitoring plan for every ship, and will need to submit annually verified emissions reports to the European Union covering all voyages to/from/within Europe. Mandatory ship emissions monitoring will begin from 1 January 2018, but owners should have submitted monitoring plans by the end of August 2017.
Our MRV solution is based on many years experience and knowledge of energy measuring and reporting. Our state the art IT energy management platform, widely used and developed during many years fits the MRV regulation demands very well. Our MRV solution includes all MRV requirements such as monitoring plans, voyage emission reports and much more.