WHEN ENERGY EFFICIENCY MATTERS
State of the art MRV solution and Energy Management System
2018-10-04
Next ship joining the "Blueflow fleet" is M/S Saxaren, operated by Skärgårdsbolaget in Stockholm. Flow and energy meters are mounted on main engines, generators and boilers. This ship is equipped with variable pitch propellers, and that adds an extra dimension to the maneouvering. The crew is now able to evaluate which RPM and pitch settings that gives the optimum fuel economy.
The ship went online today, and is right now out for the first Blueflow-equipped trip. Again, we want to thank our partners in the project. The flow meters from Aquametro was delivered by Ambiductor, and the installation was carried out by Robin at El- & Marinteknik.
2018-09-21
HH-Ferries/Scandlines Helsingborg-Helsingör installs our fuel- and energy management system Blueflow On-board™ and Blueflow Online™. The system is to be installed on M/S Aurora during the autumn this year. Aurora is, together with her sister ship Tycho Brahe, the world´s largest fully electric emission free ship. She is powered by 2 battery packs with a total of app. 8 MWh energy, enabling fully electrical operations 24/7. With Blueflow, the crew and the office will now have 100% awareness of the ships fuel- and energy consumption. The system will be able to report and analyze every trip and every maneuver down to every single kWh. Propulsion power will be separated from the rest of the ship´s energy consumption, enabling eco-driving projects to be analysed in detail.
2018-09-12
Next tug Online! Yesterday we visited port of Luleå for comissioning of Blueflow on their tug Viscaria. Everything went well, and Viscaria is now online and ready for reporting in Blueflow Online 3.0. Two displays on the bridge gives the crew full awareness of the ship´s momentary fuel consumption, enabling effective eco-driving. We want to thank port of Luleå for this order, and we are looking forward to supporting you in future fuel- and energy saving projects.
2018-09-03
Next steamer Online, this time S/S Storskär! We are happy to announce commissioning of Blueflow on this old lady, built 1908 at Lindholmens varv in Gothenburg. We now measure and report fuel consumption of the diesel boilers, generated power from the auxiliary engine and shore power energy. The challenge with this installation was to not interfere with the classical interior of an old steam ship. All necessary equipment is "hidden" as far as possible not to disturb the feeling of being on an old steamer.
2018-07-27
Our first steamship online:-) Blueflow is now commissioned on the steamship Norrskär, operated by Waxholmsbolaget in the archipelago of Stockholm. This ship is built in 1910, and equipped with a steam engine from Eriksberg. The steam is generated from three diesel boilers and the fuel consumed is measured with a flow meter from Aquametro. Of course, fuel economy is not the priority of this installation. It is more about having all fuel consumption for the hole fleet available in a common report platform, and Norrskär now joins the rest of the fleet in Online 3.0.
2018-03-15
The latest ship joining Blueflow is M/S Vaxö. She is equipped with three main engines from MTU where the fuel consumption is measured with flowmeters from Aquametro. Energy consumption from the two auxiliary engines and the shore power is collected from the existing information system onboard. Finally we mount a Badger flowmeter on the boiler. All information is now presented on-board and in our web platform Blueflow Online 3.0. The installation was carried out by Robin at El- och Marinteknik in Stockholm. Many thanks for good support!
2018-02-16
Harbour City Ferries have now started the rollout of Blueflow Fuel to the new Emerald class. Six catamarans capable of carrying 375 passengers at up to 26 knots. Five of them are named after prominent Australians but the last was briefly named Ferry McFerryface by public voting. However, the Maritime union of Australia refused to crew the vessel so it's now officially named Emerald 6 but is still carrying its nickname
2018-02-01
New installation on M/S Teaterskeppet. Many thanks to Niklas and Alex for your new-born interest in our product. We hope you will find it useful and we are ready to support you in your upcoming fuel- and energy related projects in the future.
2017-01-12
Last successful installation this year be
came the tug Bison! Operated by Buksér og Berging on the western coast of Sweden. With great support from CAT we interface the engines ECU and collects fuel consumption and other relevant parameters. "Tug-related" software functions will now be developed to suit Bison´s operations perfectly. Many thanks to BuB for showing interest in our product. We also thank CAT for good support. The installation was carried out by AB Ramantenn.
2017-12-20
Blueflow now commissioned on Viking XPRS! Wit
h this installation, Blueflow is now installed on the last ship in the Viking fleet. The crews on-board, and the office, now have full control of the fleet´s fuel and energy consumption. The goal, to be fully operational on all seven ships before the end of 2017, is now achieved. The web portal Blueflow Online 3.0 generates fuel and energy efficiency reports for each ship individually, or for the hole fleet in total. Every single parameter measured on-board is monitored and ready for analyzes. All routes are automatically detected and reported.
2017-12-04
M/S Visby and M/S Gotl
and Online and MRV-ready! We are now fully integrated on M/S Visby and M/S Gotland. Retro-fitting of a Blueflow system is like a parameter puzzle, and the system is designed for each ship individually. On these ships we integrate with the Lyngsö automation system for engine parameters. Other signals are collected from NMEA, analog signals, and direct communication with flow-meters. The ships are now also fully compliant with the MRV-regulation and ready to start measure and report accordingly.  Many thanks to Destination Gotland for placing your confidence in us.
2017-11-24
Viking Grace Online! We can now proudly announce that Blueflow is up and running on Viking Grace. Viking Grace is an LNG-ship famous for being one of the "greenest" ships in the Baltic Sea. With Blueflow she has now become even greener. From numerous integration points on-board we collect, calculate and present fuel- and energy related parameters which enables the crew and the office to track and follow up fuel saving actions. Every drip of fuel, and every kW of electricity is now recorded and available for reporting and analyzes in Blueflow Online 3.0. Viking Grace is number six out of seven ships in the Viking fleet to be equipped with Blueflow. Viking XPRS next…
2017-11-16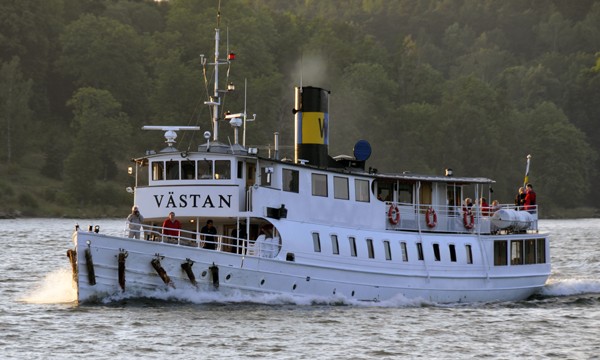 Next ship online is an old lady. Västan, built year 1900, is a diesel-electric ferry equipped with two main generators from Volvo Penta. They power one electric motor from ABB. Diesel and electric parameters are now displayed on a screen on the bridge which enables eco-driving in a more efficient way. Additional fuel meters on the heater, and energy-meters on the shore-connections gives the operator 100% control of the ship´s energy consumption. The ship now joins the rest of the fleet in our cloud platform Blueflow Online 3.0. The installation was carried out by El- och Marinteknik and we also had good support from Callenberg Automation. Many thanks to all involved in this project.
2017-10-02
Mariella online! We are now online with next ship in the Viking fleet. Information from flow and energy meters on main engines, auxiliary engines and boilers is presented for the crew on displays mounted on the bridge, and in the machine room.  Mariella also joins the rest of the fleet in our cloud platform Blueflow Online 3.0. This was number 5/7 in the Viking fleet.  Grace next…
2017-08-08
The Blueflow rollout at Harbour City Ferries in Sydney continues as planned with all First Fleet vessels up and running. Work has now started on the river and harbour cats so it won't be long until the whole fleet is ready.
2017-07-27
2017-07-11
Viking Cinderella now online and MRV-ready! The Blueflow installation on Viking Cinderella is now complete. Emerson flowmeters installed on main engines, auxiliary engines and boilers combined with other selected signals are presented in the machine room and on the bridge for easy follow up of different operating methods. Signals from electrical energy meters are used to calculate efficiency on the gensets, and all parameters are also available for report and statistic analyze in our cloud platform Blueflow Online 3.0 Automatic data exchange of passenger and cargo information now makes the ship ready for MRV. Contact us for more information.
2017-07-04
Next ship online in Sydney. Contact our partner Fuelwise Management Systems, https://lnkd.in/ew3A58t for more information about the projects going on in Australia
2017-06-28
Another ship online. This time on the small archipelago ship Utö Express operated by Utö Rederi. Fuel consumption on the two Scania main engines are monitored via CAN-interface. Auxiliary engine power is measured via the engine control panel and the boiler consumption is measured with a flow meter from Swiss company AIC. All data is presented on board and online for easy control of energy consumption.
2017-06-18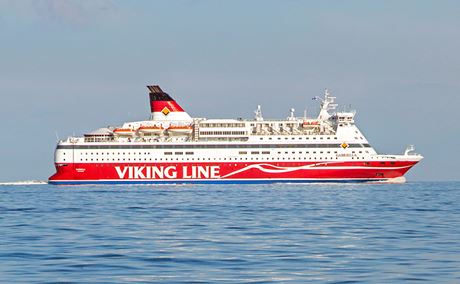 Next installation to be Online is M/S Gabriella. The ship is now equipped with flow and energy meters on main engines, AUX engines and Boilers. This information, combined with other relevant signals are displayed on the bridge, in the control room and in our Energy Management platform Online 3.0. The ship is now also prepared for the upcoming MRV-regulation 2015/757.
2017-06-12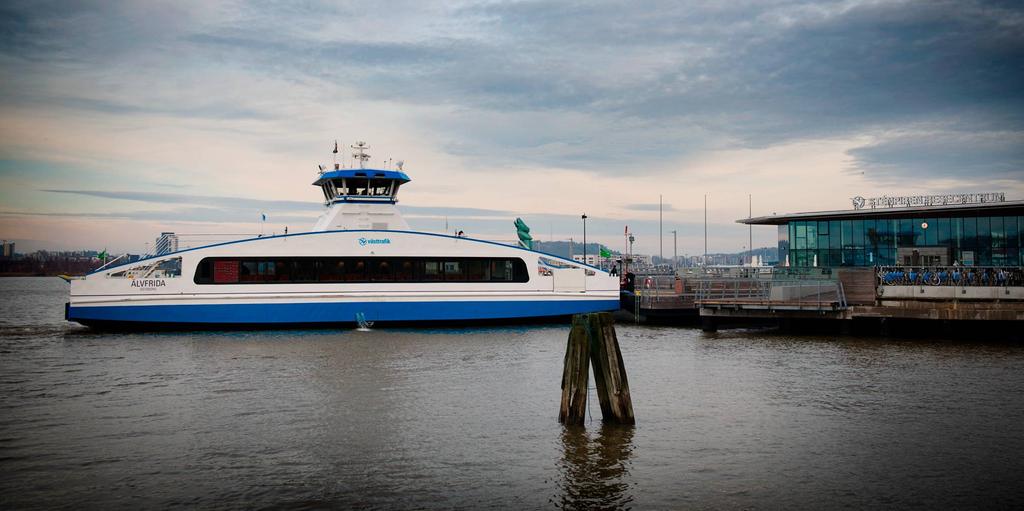 More installations commissioned! This time on the two diesel-electric river shuttles Älvfrida and Älveli operated by Styrsöbolaget in Gothenburg. Focus on this projects was calculation and presentation of electric efficiency of the vessel. The parameter kWh/Nm is presented on the bridge and the vessel´s total energy consumption is now available for reports online.
2017-06-02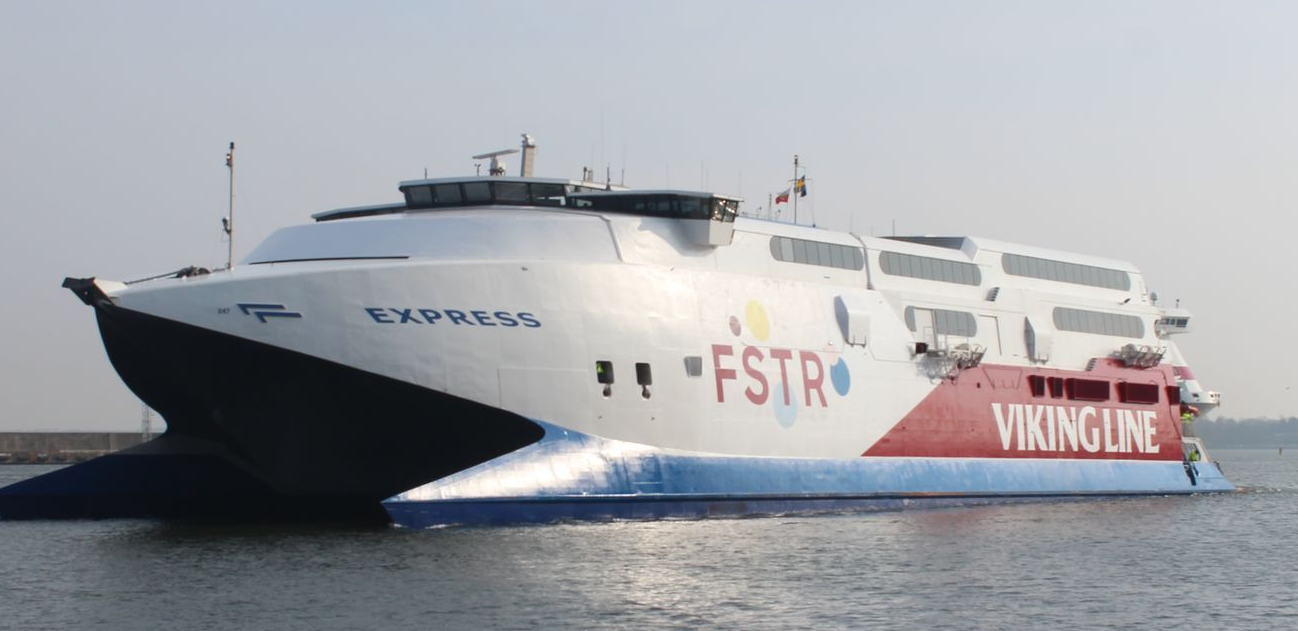 Blueflow now commissioned on Viking FSTR… We are proud to announce that Blueflow is now commissioned on the High Speed Catamaran Viking FSTR. Fuel consumption is measured with high accurate flow meters from KRAL and two displays on board gives the crew full control of the ship´s fuel and energy consumption. This ship is now online for data analyzes and report functionality and is number two out of seven in sequence of Viking ships to be installed during the year.
2017-05-31
 Next installation is finished in Sydney! This time on the double-ended city ferry Collaroy. Below is a picture from Blueflow Online 3.0 where all vessels are monitored in real time. All measured parameters are stored in the database with one second resolution. The report generator creates instant reports based on routes or time intervals and are automatically sent to selected recipients. This enables easy follow-up of fuel and energy saving measures
2017-05-20
Next vessel installed is Djurgården 11. This double-ended city ferry is operated by Djurgårdens färjetrafik in the central of Stockholm, and is one out of four similar ships in the fleet. One main engine, one AUX engine, one boiler and one shore connection is measured and presented on the bridge and in Blueflow Online 3.0. This installation was made by Thomas Wallinder at TA Wallinders teknik. Thanks for a job well done!
2017-05-15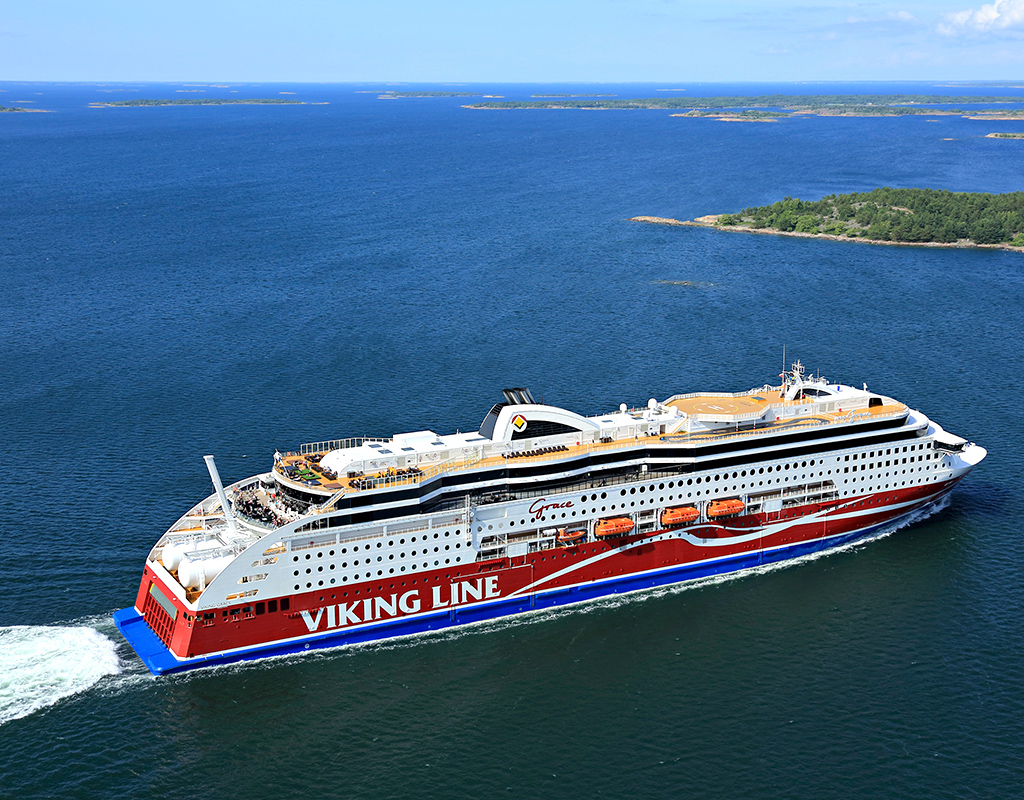 VIKING LINE equips their entire fleet with Blueflow Energy Management System™ as their MRV and Energy-Management platform. We are honored to have had our Blueflow Energy Management solution chosen by a leading shipping company in the Baltic Sea and we are looking forward to the coming months as we equip their ships with Blueflow™ for them to be fully operational by the end of 2017
2017-05-05
B
lueflow news from "down-under"… After a successful trial, Sydney Ferries (Harbour City Ferries) have decided to roll out Blueflow Fuel to a total of 22 vessels, starting with the Freshwater class, followed by the First Fleet class and finishing up with the Harbour and River Cats. First off the rank was Freshwater which became fully operational last week.
2017-05-01
#In swedish: Nästa installation blev på M/S Skärgården. Varje båt är som ett projekt där vi lägger ett parameterpussel. På detta fartyg blev lösningen en mix av inkoppling till NMEA2000-nätverk, Beijer-paneler och direkt mot bränslemätare. Samtliga förbrukare ombord, huvudmotorer, hjälpmotorer, värmepanna och landström, presenteras på skärmar samt i Blueflow Online 3.0 där den görs tillgänglig för uppföljning och kontroll. Återigen utfördes installationen av El- och Marinteknik på Beckholmen.
2017-04-31
#In swedish: Alla bäckar små… Vi har nu kompletterat befintlig Blueflowinstallation på M/S Roslagen. Tidigare mätningar på huvudmotorerna har nu utökats med mätning på hjälpmotorer, landströmsanslutning samt värmepanna. Beslutet att komplettera mätningarna ger nu besättning och fartygsoperatör total kontroll över fartygets totala energiförbrukning. Installationen utfördes av El- och Marinteknik på Beckholmen.
2017-04-25

Are you prepared for MRV? First deadline when the Monitoring Plans should be submitted 31/8 is quickly coming up. Let us help you through the process of filing Monitoring plans, record bunker consumption and finally report your CO2-emissions according to the regulation. Feel free to contact us for more information
2017-03-01
Destination Gotland chooses Blueflow Energy Management System™ as their MRV and Energy-Efficiency platform. Blueflow is very proud to work with Destination Gotland in their MRV and energy-efficiency efforts. Blueflow Energy Management System™ is compliant with European Union Monitoring, Reporting and Verification (MRV) rules and will be used in Destination Gotland's daily MRV work along with efforts in reducing carbon prints and energy consumption. M/S Visby and M/S Gotland will be first out to be equipped with Blueflow Energy Management System™.
2017-02-01
#In swedish: Blueflow goes electric… Tillsammans med Callenberg har vi nu installerat Blueflow på Rederi Ballerinas elfartyg E/S Sjövägen. Fartyget är helt elektriskt och drivs med två stycken elmotorer på vardera 125 kW. Genom inkoppling mot fartygets befintliga automationssystem så mäter och beräknar vi parametrar som kWh/Nm, batteristatus, laddeffekter och mycket mer. Fartyget kompletterar redan befintliga installationer på Gurli och Kung Ring i Blueflow Online 3.0. För mer information om projektet, kontakta oss på telefon 0854021680 så berättar vi mer.
2017-01-02
#In swedish: Då var årets sista installation driftsatt. På M/S Sandhamn mäts bränsleförbrukningen på fyra stycken Scaniamotorer. Det görs genom inkoppling till befintliga Beijerpaneler på bryggan. Hjälpmotorernas uteffekt mäts med energimätare och systemet beräknar sedan bränsleförbrukningen genom mappning mot motorernas verkningsgradskurvor. Två landströmsanslutningar mäts också med energimätare. Värmepannans förbrukning mäts med flödesmätare från Schweiziska företaget AIC. Installationen utfördes även denna gång av El- och Marinteknik på Beckholmen. Som vanligt tackar vi för ett gott samarbete och ser fram mot fler projekt tillsammans nästa år.
2017-01-02
#In swedish: Då är nästa installation färdig. Denna gång är det Vaxholmsbolagets fartyg M/S Söderarm som utrustats med Blueflow för mätning och uppföljning av bränsle- och energiförbrukningen ombord. All information samlas in, presenteras på bryggan och skickas till vår server Online 3.0. Servern genererar sedan detaljerade rapporter som möjliggör uppföljning av bränslebesparande åtgärder. Denna gång utfördes installationen av El- och marinteknik och vi tackar för ett bra utfört arbete.
2016-12-12
#In swedish Då är nästa installation klar. Denna gång Styrsöbolagets fartyg M/S Vipan. I och med denna installation har Styrsöbolaget nu totalt 11 fartyg med Blueflow installerat. Systemen ger besättningarna ett bra verktyg för ECO-driving, och rederikontoret får full kontroll på flottans bränsleförbrukning. Blueflowgänget tackar Styrsöbolaget för det utökade förtroendet. Installationen utfördes som vanligt i samarbete med AB Ramantenn.
2016-11-01
#In swedish: Ny installation klar, denna gång på Styrsöbolagets fraktbåt Ärlan. Motorparametrarna mäts genom inkoppling mot befintliga Beijerpaneler på bryggan. Vi tackar Johan på AB Ramantenn samt Magnus på MAGH för gott samarbete under installationen.